Incorporate personal touches into your wedding details to reflect your journey as a couple, and utilize natural lighting to enhance the rustic charm of your venue.
Opt for a casual meal service such as a buffet or family-style dining using comfort foods and locally sourced ingredients to align with the rustic theme.
Invest in high-quality photography to capture the essence of your rustic wedding, preserving every detail, emotion, and moment.
Embrace the simplicity, authenticity, and personal nature of the rustic theme for your wedding, making it a unique and memorable celebration.
Dreaming of a rustic wedding that encapsulates simplicity, charm, and elegance? Here are some tips to turn that dream into a reality. Start by choosing a venue that resonates with the charm of the countryside, maybe a barn or a farm.
Focus on natural elements for decor like wood, burlap, and lace. Opt for a palette inspired by nature, with earthy tones and accents of vibrant hues. And, don't forget to infuse your personal touch into every detail to make your rustic wedding truly unforgettable.
Selecting the Right Venue
Choosing the right venue is critical in realizing your dream rustic wedding. Many couples opt for barn weddings because they blend rustic charm and elegant simplicity perfectly. An old barn, with its high ceilings and exposed wooden beams, serves as a blank canvas, allowing you to customize the space to suit your vision.
The surrounding natural beauty also contributes to the overall aesthetic, creating an enchanting backdrop for your wedding photographs. Moreover, barn venues often have expansive outdoor areas for you to utilize, whether for the ceremony, a cocktail hour, or just a space for guests to relax and enjoy the scenery. Selecting a barn as your venue not only underscores the rustic theme but also adds an element of warmth and authenticity to your celebration.
Embracing Natural Decor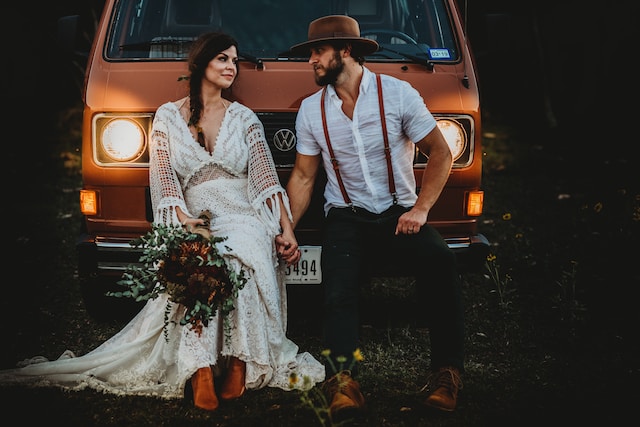 When it comes to decor, embracing natural elements is the essence of a rustic wedding. Use unpolished wood, lace, and burlap for your centerpieces and signage. Here are some tips:
Choosing the Right Color Palette
The color palette for a rustic wedding should ideally reflect the warmth and natural charm of the countryside. Earthy tones such as browns, tans, and creams make a perfect base, creating a sense of warmth and simplicity. Accents can be added in vibrant hues, like the rich reds of fall leaves, the lush greens of summer foliage, or the soft pastels of spring flowers.
These pops of color bring life and vibrancy to your rustic theme. You can incorporate these colors through table linens, bridesmaid dresses, floral arrangements, and other decor elements.
Remember, the goal is to create a harmonious blend that complements the rustic setting and resonates with the natural beauty around you. Choosing the right color palette will help to enhance the rustic theme and set a romantic and inviting atmosphere for your special day.
Incorporating Personal Touches
Incorporating personal touches is what makes your wedding truly yours. From customized wedding invitations to personalized decor, every element can tell a story about your journey as a couple. Consider incorporating elements that reflect your hobbies, interests, or shared experiences.
For instance, if you both love books, use pages from your favorite novels as part of the decor. If you have a shared passion for travel, consider naming your tables after the places you've visited together, or use vintage suitcases as unique card holders.
You could also include family traditions or pay homage to your cultural heritage through cuisine or ceremony rituals. By weaving these personal elements into your rustic wedding, you create a visually breathtaking, deeply meaningful, and memorable event.
Utilizing Natural Lighting
Proper utilization of natural lighting can enhance the rustic charm of your wedding venue. The soft, warm glow of sunlight during the day can illuminate your venue, accentuating the natural textures and colors of the rustic decor. As the sun sets, the enchanting glow of the dusk can provide a romantic backdrop for your evening festivities.
Consider incorporating elements like fairy lights, lanterns, and candles into your decor. These can create a warm, inviting ambiance as the day turns into night. Opt for string lights draped over wooden beams or around trees, lanterns lining the aisle or the dance floor, and candles placed on tables or around the venue.
Not only will this create a magical atmosphere, but it will also make for beautiful, glowing photographs. Remember, the goal is to use lighting to enhance the rustic charm of your venue and create an intimate and inviting atmosphere for your celebration.
Opting for Casual Meals
When planning a rustic wedding, the meal service should reflect the relaxed, homely atmosphere that this theme embodies. Instead of a formal sit-down dinner, consider a more casual meal service such as a buffet or family-style dining. This approach complements the rustic theme and encourages interaction among guests.
You can serve comfort foods like barbecued meat, corn on the cob, and pies for dessert, all presented in a charming, rustic style. Don't forget to incorporate locally sourced, farm-fresh ingredients wherever possible, further underlining the rustic, countryside vibe.
Consider including a cozy bonfire for roasting marshmallows and making s'mores, adding a fun and interactive dining experience. The idea is to embrace the simplicity and warmth that a rustic wedding represents, making your guests feel at home while they celebrate your love.
Investing in High-Quality Photography
High-quality photography is a crucial investment for your rustic wedding. The right photographer can capture the essence of your day, preserving every detail, emotion, and moment in time. Seek a professional experienced with outdoor settings and natural lighting, and understand the aesthetic of a rustic wedding.
They should be able to highlight the charm of your chosen venue, the warmth of your decor, and the joy of your celebration. Their photos will be a tangible reminder of your special day, allowing you to relive every laugh, tear, and dance for years.
Therefore, prioritize securing a skilled photographer who can beautifully document your rustic wedding story when planning your budget. Remember, these photos are more than just images; they are priceless mementos that you, your family, and your friends will cherish forever.
Now it's time to start planning your dream rustic wedding—embrace the charming simplicity of the rustic theme and let your creativity shine. Good luck!