Millions remain stuck at home as the pandemic continues to spread around the world. Some take this time to create and build wonderful things. Others spend this time learning new skills. Some people use it to enrich their knowledge. And others simply want to binge-watch all the offerings of streaming sites. You, however, have a family to worry about. Being stuck at home like this can likely increase tension and restlessness for both kids and adults.
If you're running out of ideas on how to meaningfully spend this common time with your family, here are five exciting and engaging activities you can do:
Game Time
Game nights can lighten up any household. You can play anything from charades, board games, to video game tournaments. You can even just huddle around and put 300-piece puzzles together. The kids will surely love it, but you'll be surprised by how much you'll enjoy it, too. Make it a regular thing so that everyone has one more thing to look forward to when that certain day comes around
Extra tip: You can also keep a running score for everyone to make it a little more exciting.
Family Workouts
Exercising is essential for everyone during this time. The World Health Organization (WHO) warns that physical inactivity is one of the leading causes of disease and disability. But working out doesn't only make bodies healthy; it also promotes mental health and reduces stress. Plus, you can always play light sports or even dance if you're tired of doing push-ups and lifting weights.
Extra tip: YouTube has a lot of excellent options for exercises that are helpful for both kids and adults, like this one.
Cook Fest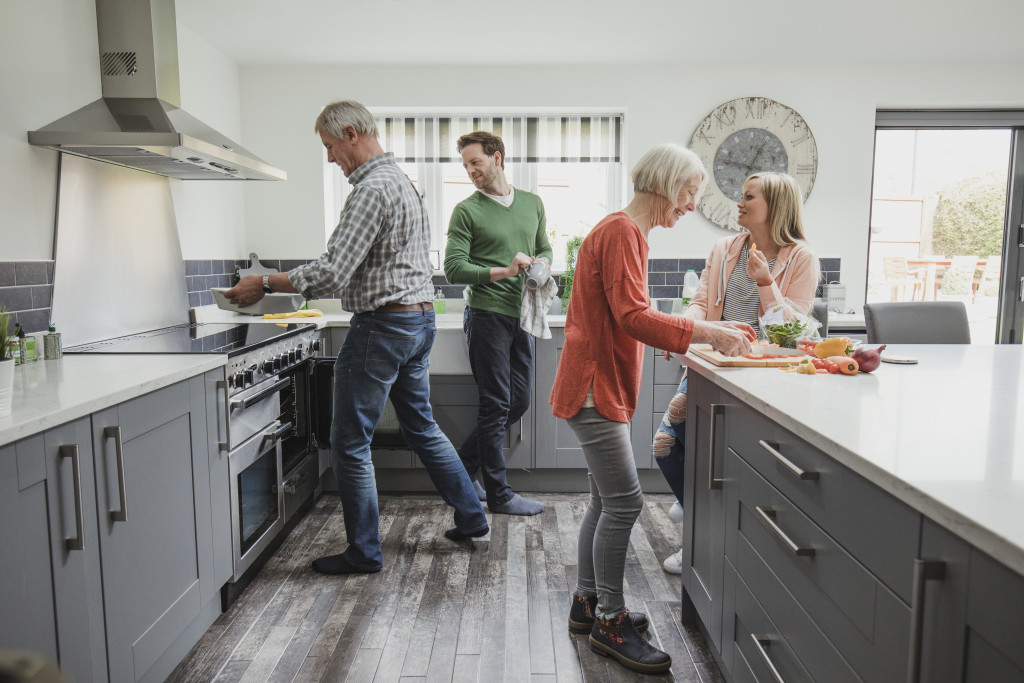 Cooking with everyone can be a lot of fun. The kids will love learning about the kitchen, and they'll be able to help you out. Aside from cooking, children will also learn about responsibility in an exciting and delicious way. Just make sure to put safety first and supervise the young ones, especially if they're handling sharp objects. Cooking Light published this wonderful list of recipes families can enjoy making together.
Extra tip: Barbecues can also be fun for everyone. You can even split into team to cover more ground.
Karaoke Nights
Everyone loves to sing. Karaoke nights are the perfect opportunity to showcase that vocal prowess or at least have some fun. Make it more festive by decorating your living room and turning up the volume. You can take it a step further by making it a competition. Invite friends or grandparents (via video call) to judge your performances.
Extra Tip: If you don't have a karaoke system, you can always search karaoke songs on YouTube, and you'll find tons of options to sing your heart out. You don't even need a mic.
Quiz Bees
Sit everyone down in the living room and take turns as being the quiz master. Choose topics that will be exciting for everyone, like titles of songs from different eras. You can also take this time to learn about what the kids are studying in school and use that for the quizzes.
Extra tip: Select a prize for the winner so that everyone will want to join in.