Define a niche for the business and research the local market to understand the services needed in an area.
Utilize social media platforms and digital marketing tools to promote services and connect with potential customers.
Create a detailed business plan that outlines goals, strategies, budget, and marketing plan.
Consider what equipment is necessary and the legal structure of the company, including capital and permits needed.
Develop a team of experienced professionals passionate about their work to take on more projects.
Spending on repairs and improvements in owner-occupied homes is predicted to grow steadily through early 2023. The year-over-year increases reached their apex in the third quarter of 2022 at 19.7 percent. Even though the growth will slow down in the first quarter of 2023, it's still a notable figure at 15.1 percent.
Starting a home renovation business can be both rewarding and lucrative. Whether you specialize in kitchen remodels, bathroom renovations, or whole-house makeovers, being able to transform people's homes into something they love is incredibly satisfying. But how do you get started? Here's what you need to know about starting your own home renovation business.
Know Your Niche
Before you do anything else, it's essential to define the niche that your business will focus on. Do you want to specialize in residential or commercial renovations? Do you have experience with outdoor projects like decks and patios? Are there certain types of homes (i.e., historic buildings) that you prefer working with? Answering these questions will help narrow down the scope of your business and allow you to focus on providing quality services for a specific group of customers.
Research the Market
Once you've identified your niche, it's important to research the local market to understand what type of services people in your area are looking for. This can include everything from researching the types of renovations popular among homeowners in your city to understanding the types of finishes and materials used by local contractors. Taking the time to understand these trends will help you create a service offering that meets the needs of your target market.
Promote the Service
Finally, you should use social media platforms and other digital marketing tools to promote your services and connect with potential customers. You can create content around the type of renovations you specialize in or showcase before-and-after photos of projects you've completed. You should also get involved in local discussion forums and join industry-related groups to network with other professionals. By building relationships with customers, you can create lasting partnerships that will help your business grow.
Create a Business Plan
Once you have an idea of the type of work that your business will provide, it's time to create a business plan. This document should outline your goals, strategies, budget, and marketing plan. It will also serve as a reference point throughout your business life so that you can track progress and ensure that everything is running smoothly.
Financial Projections
Make sure to include financial projections and any potential risks or challenges that may arise along the way. A solid business plan is a foundation for success. It will help you attract investors, secure funding, and stay on track.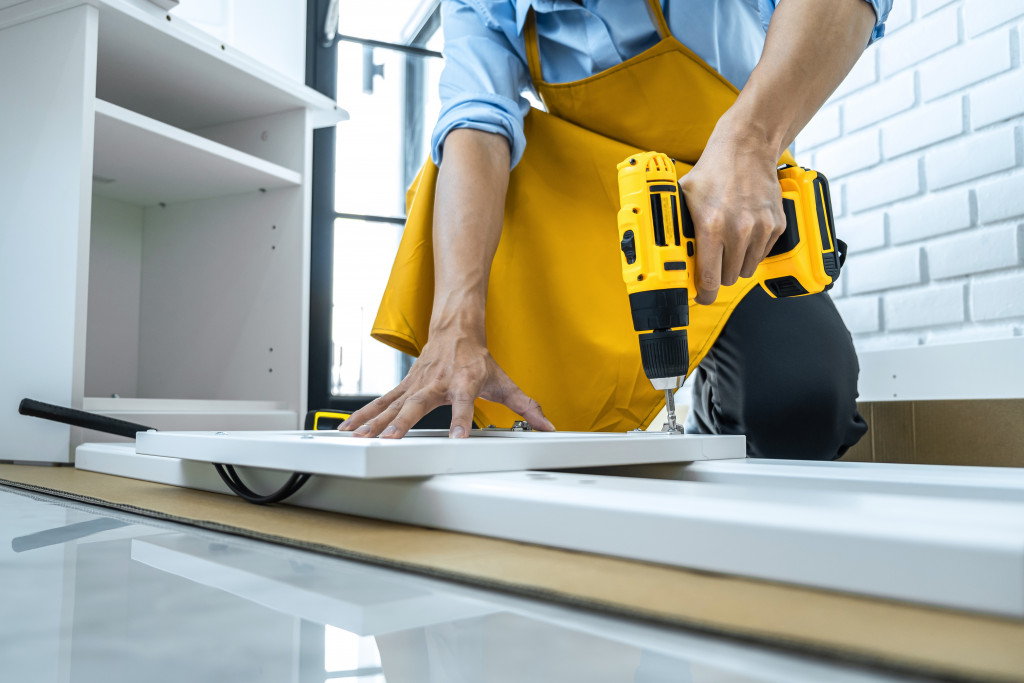 Consider the Necessary Equipment
Including the necessary equipment in a business plan is essential for the success of any business. The equipment needed will vary depending on the type of work the business provides, but it must be considered to ensure that all operations run smoothly and efficiently. You should also consider renting equipment instead of buying them. For instance, looking for a mobile crane rental service can help you complete a major project. Renting equipment is a good option when you're still starting the business since acquiring them requires a huge capital investment. Until you get enough funds, renting equipment is a better option for your business.
Legal Structure
Once you have a business plan, it's time to start setting up your business. Consider the legal structure of your company, how much capital you need to get started, and what type of insurance or permits are necessary to operate legally.
Develop Your Team
A successful renovation business requires more than just one person. You need a team of skilled professionals committed to providing quality workmanship and customer service. The team can include carpenters, electricians, plumbers, painters, and designers. The team should work towards a common goal: transforming clients' homes into something beautiful!
Screen Team Members
Be sure to thoroughly vet each team member before hiring them. Vetting the team ensures everyone is up-to-date on safety protocols and can deliver excellent results on every job they take. Additionally, make sure everyone is aware of their roles and is comfortable with the expectations set by you and the other members of your team. With a strong, cohesive team in place, you'll be able to take on more projects, expand your business, and deliver outstanding customer service.
Starting a home renovation business is a challenging feat. But if done right, it can be gratifying both financially and personally. By defining your niche, creating a detailed business plan, and developing an experienced team of passionate professionals, you'll be well on your way to having a successful home renovation company! For entrepreneurs looking for an exciting new venture where they can truly transform people's lives—starting a home renovation company could be the perfect opportunity!