The government might have lifted quarantine restrictions and economies are opening up, but these don't mean families can now frolic on the beach. Parents are still working from home. Their children are still learning virtually. It's not the sort of an ideal family setup we usually see when school starts. In pre-pandemic times, parents should be rushing out of the door at 7 AM to get the kids to school. They should be busy with work all morning and rush to pick up the kids before 5 PM.
But the pandemic pushed this routine to the backburner. Today, parents have to set up their working space in any home area while the kids also have to struggle to learn virtually. It's a lot at once. The adults have to toe the line between being a parent and a teacher. The kids have to learn to distinguish between the parent they need to listen to for their lessons and the parent they can cuddle up with.
There's another predicament for families in this new setup: the learning and work-from-home area. Lucky are people who have an extra room in the house to set up space for work and lessons. But what about those who have to make do with a small area for a laptop and a whiteboard?
Choose a Quiet Area
What area of your house is the quietest? You might say the basement, but the problem with basements is the lack of natural light. You need to choose a quiet area with as much natural light as possible. Make sure to install retractable window awnings for when the sun gets too bright. Don't choose the bedroom, too, even if that's the most practical area in the house. Having a bed and their toys nearby will distract the kids from learning. It's distracting for you, too, when you work.
Eliminate Sources of Distractions
Never put the kids in a room with a TV and game console. Instead of studying, their minds will focus on playing video games. When preparing a room for virtual learning, make sure to eliminate any sources of distractions. That includes toys, TV, and phones. It's the same thing when you work. Make sure you are not surrounded by things that will take your mind off your work.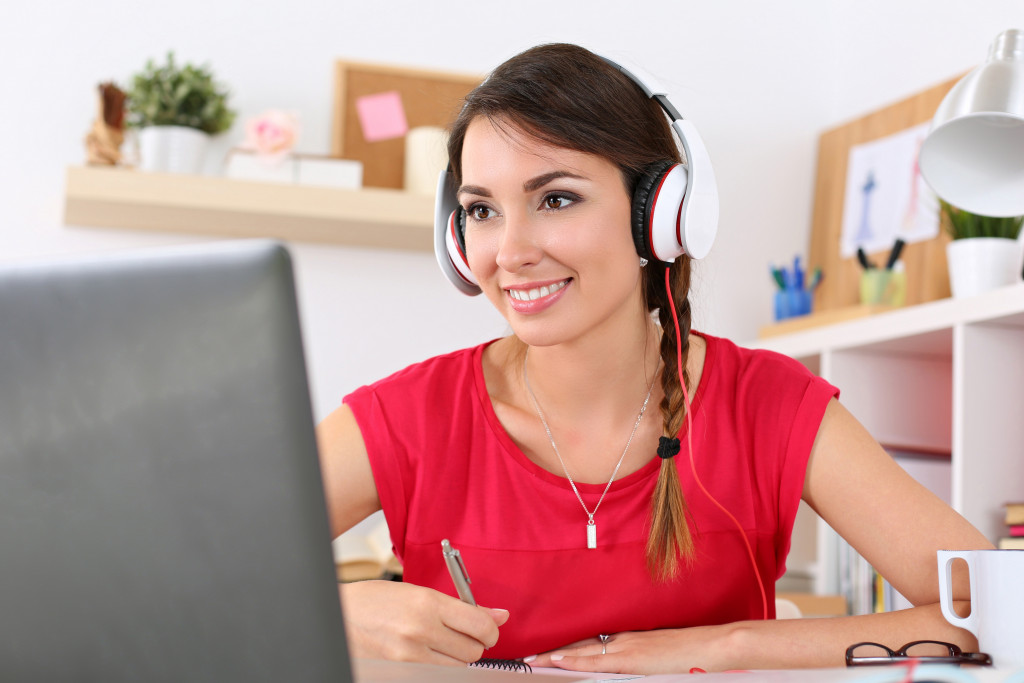 Make the Space Comfortable
You and the kids must be comfortable in the room, but make sure that it's not too comfortable that they eventually want to sleep in it. Invest in ergonomic furniture such as tables and chairs. Make sure the table and chair are height-adjustable. You still don't know until when the kids are going to have to learn from home. It's better to invest in adjustable chairs and tables since they grow up pretty fast.
Stick to a Routine
Routines are the best thing for kids right now. Even during the weekend, make sure they will follow a schedule in terms of what activities they want to do. This will teach them the value of time management. It will also be easier for you to manage your schedule when the kids follow a routine. You can set up your work, too, at a specific time rather than "steal" a few hours each day from taking care of the household.
An example of a workable routine is to wake up at 7 AM, prepare everyone for breakfast, and give them until 9 AM to shower. Once it's 9 AM, the kids should be in their virtual classrooms until 11 AM or 12 PM, depending on the number of classes they are taking. During their downtime, prepare their lunches. After their lunch break, set them up for some playtime. This is also the best time for you to work.
Personalize the Space
Put up your kids' artwork on the walls. Decorate the space the way a classroom will look like. For your own area, design it the way you would your own office. Make sure that the area will transport you to your office and your kids to school. This is an important step in owning that space, in making sure that it's optimized for learning and work (and not recreational activities).
If you need to stagger the space (meaning, you have multiple kids and limited space), give them each a box they can fill up with their school materials. Give them a couple of minutes to decorate their "space" before their time starts there. It's important that they feel some individuality when they start their online learning classes.
It's not an easy transition. Families spent decades nurturing and following the same routine—drop the kids off to school, go to work, pick up the kids in the afternoon, do the homework, and have dinner. The pandemic put off many of their plans, but as with many things, families can adjust to, adapt to, and own this new normal.