Click play to listen (needs Flash)
The Alternative Kitchen Garden podcast, produced and presented by Emma Cooper, is all about growing edible and useful plants in an environmentally-friendly way. It is completely free to download and listen to.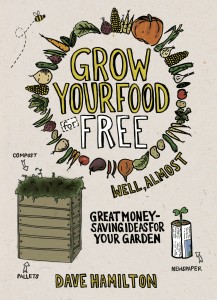 Dave Hamilton has stopped by to talk about his new book, Grow Your Food For Free (well, almost), and his autumn foraging walks, as well as to answer some questions posed to him by Zeb Bakes, Bugs and Hadenmaiden via Twitter.
If you'd like more details about the book then I reviewed it in back in May on the blog, and Dave's website is Selfsufficientish.com, and you can find out more about his wild food walks and other events there.
During the show Dave also gives us his top tips for peat-free gardening, and if you want to know more about making your own leaf mould (or leaf mould in the US :) then listen to episode 32 of the show or check out my latest post on the BBC Gardening blog.
If you have a few spare pennies or cents then you can help support Kew's work at the Millennium Seed Bank – The Alternative Kitchen Garden Seed Appeal is raising enough money to save an entire wild (edible!) plant species.
Leave me a comment, send me an email or join our Facebook group. You can get real time updates from the AKG on Twitter. If you're interested in becoming an Alternative Kitchen Garden Correspondent then read the FAQ.
---
The Alternative Kitchen Garden podcast is released in good faith with Creative Commons BY-NC-ND terms. You are free (and encouraged) to share, copy, distribute and transmit the podcast episodes providing you attribute them to Emma Cooper, don't use the episodes for commercial purposes and don't modify the episodes.For a full explanation of the licence, please see the Creative Commons BY-NC-ND licence details.